Agri Business Loans
Dakota Style, Inc.

1 Chip Road
Clark, SD 57225
US

Category:  Codington Clark Electric, Business, Cooperatives
Dakota Style began as a family business making kettle-style chips on a farm near Clark, SD (population 1,051) 29 years ago. It has grown into a national supplier of high quality salty snack foods with a product line featuring sunflower seeds (in shell and kernels) with innovative flavors, healthful options and a variety of package sizing.
Effective merchandising helped Dakota Style extend its market from Canada to the Mexico border and from Denver to Chicago. Recent distribution into grocery departments of 1,400 Wal-Mart stores and checkout areas of 2,400 Wal-Mart stores, gives them nationwide market penetration.
A series of loans from REED, through Codington-Clark Electric Cooperative, and a group of partnering lenders, are part of a package that provides working capital, new packaging equipment and enables facility upgrades. Over the next few years Dakota Style plans to bring additional processing in-house and continue to grow. Dakota Style will increase purchases from area farmers, taking crops from feedstock to shelf.
The US snack foods manufacturing industry has 400 companies with combined 2009 annual revenue of $23 billion. Small label brands hold a 5.5 percent share of the total salty snacks category. Dakota Style has the ability to draw consumers by convincing them of a great product and standing by that claim.
Dakota Style: a homegrown and family-owned company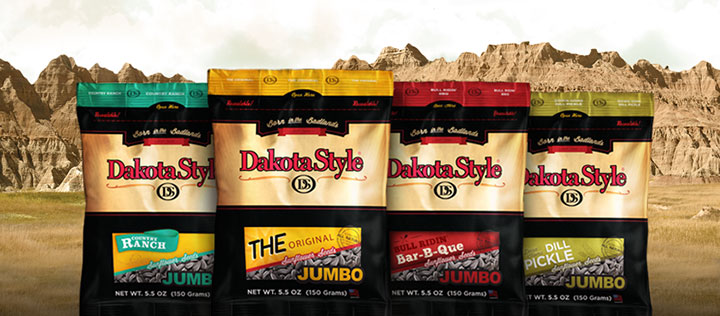 A farming couple in Clark, South Dakota started a kettle chip company in 1985 with a tasty, homegrown product: chips made from potatoes grown on site, cooked in an open kettle and seasoned by hand.
Dakota Style has grown and evolved over the last few decades, but a couple of things remain the same. It's still a family-run company focused on producing quality snack products.

Kevin Dandurand bought the business in 1998 and continues to serve as its president and CEO. As the business has grown, several of his sons have joined the company. Riley serves as general manager while Eric and Dustin handle sales. A total of 16 people are employed by the company.
Riley Dandurand says even those employees who aren't blood related are like family at Dakota Style. "We treat everybody the same. Every person is just as important as the next," he says. "We need all hands on deck to make the company succeed. We're going up against fortune 500 companies and big conglomerates, and we need a family type of atmosphere to be successful."
Dakota Style chips are well known in the state and region. Nearly a decade ago, the company expanded beyond its original farm site to add a facility in Clark's industrial park devoted to processing and packaging sunflower seeds and kernels.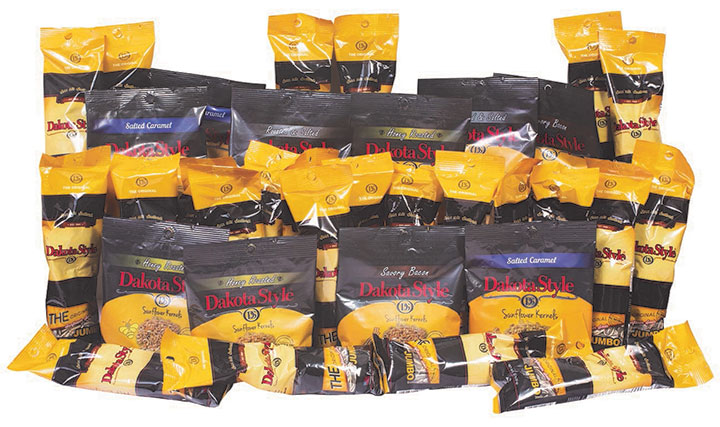 This more recent addition to the company's products led to a considerable sales shift that brought the brand to stores nationwide. As of January 2016, sunflower seed and kernel sales had become 85 percent of Dakota Style's business. This was a complete shift, as chips used to dominate sales.
Sunflower seeds are rich in selenium, magnesium and vitamin E. They appeal to customers that are increasingly health conscious. The company launched a sunflower seed and dried cranberry mix in November called Natural Kravings, which has been very successful.
"Sunflower kernels are an underappreciated and healthy alternative with many advantages. Also, with sunflower kernels, peanut and tree nut allergies aren't an issue," explains Riley Dandurand.
Having a diverse array of products and a separate facility was a saving grace for Dakota Style when its original chip factory was destroyed in a fire in February of 2016. The company has been unable to produce chips since then but is in the midst of settling an insurance claim.
The chip portion of the business will be up and running again soon. It will start up with four flavors, including: original, jalapeño, honey mustard and BBQ.
A series of loans from a group of lenders, including the Rural Electric Economic Development (REED) Fund, have helped provide working capital, new packaging equipment and facility upgrades for Dakota Style over the years.
"REED has been absolutely fantastic from every aspect of our business," says Dandurand. "Anytime we've wanted to expand our operations, they have always been there to support us with that," says Dandurand. "It's one thing to be partner in loaning money but it's another to really care about our business and want to know what they can do to help us."
The company is in the midst of expanding both production and retail packaging aspects of the business that will allow Dakota Style to have more control over operations and enable it to be more competitive in the marketplace.
Dandurand is excited to continue moving the company forward with some new product innovations. "Next year is slated to be big year for us — for getting new products to market and continuing to expand on what we offer our customers under Dakota Style, a name they have come to trust over the last 30 years."