REED Fund helps Fresha Cut into Expansion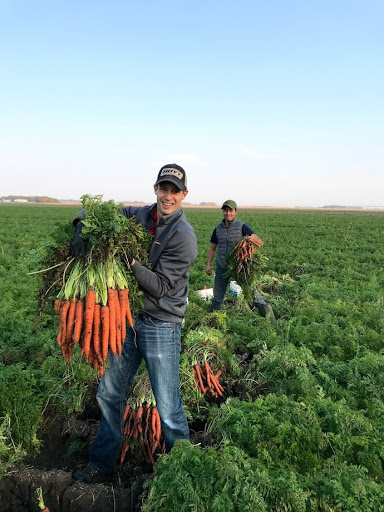 One silver lining to the harsh realities of the COVID-19 pandemic was the value of local production. With the assistance of the REED Fund, Fresha, Inc, a carrot packaging operation in western Minnesota, now has the ability to expand their operations to bring value-added produce to the market from a local crop, enhancing economic vitality to their area.
Fresha began its carrot processing operations in 2019 in Morris, Minnesota. The REED Fund assisted its member, Agralite Electric Cooperative, with obtaining a USDA Rural Economic Development Loan at zero interest in the spring of 2020 to help Fresha with start up and working capital funds. At that time, Fresha's operations involved washing newly harvested carrots from local growers and packaging them in 50-pound sacks of whole "Jumbos" for shipment to wholesale markets and food service buyers. In late 2020, REED and Agralite teamed up again to provide a similar loan to Fresha to allow them to expand their operations.
"With the expansion, we have the equipment to increase our lines to products such as baby carrots, coined, chipped and shredded carrots," said Paul Schmidgall, Fresha's General Manager.
Local Benefit
Fresha's inception came from the desire of a few agricultural producers to enter into value-added production and marketing of new products. One of those producers is Fresha CEO Dan Shaefer, who has grown carrots for a number of years and has grown carrots for Fresha's first two years. He has developed the agronomy plan for Fresha and has plans to help several other owners grow carrots this upcoming season for Fresha.
This activity fit with Agralite's commitment to businesses attempting to positively impact their community, said Jenny Stryhn, Agralite's Manager of Finance and Administration.
"Our assistance for Fresha highlights their benefits to the local farming community," she said. "By providing a market for farmers products, creating jobs and getting fresh produce into the local market, Fresha is an excellent example of projects that focus on increasing local economic value."
Schmidgall expresses gratitude to Agralite and the REED Fund for helping get Fresha off the ground. Currently, Fresha has 10 full-time and 30 part-time employees and has been able to obtain a retail presence in the Upper Midwest states of North and South Dakota, Minnesota, Wisconsin and Iowa.
"We are very happy to have gained a presence in local, individual grocery stores as well as in larger grocery chains throughout the region," said Schmidgall.
Fresha recently washed its last box of stored carrots from last fall's harvest and now turns its gaze to a fresh crop in July or August.
"We are all excited to continue our status as a unique, locally sourced provider in the Upper Midwest," said Schmidgall. "In the big picture, we know we are growing the value of a local crop and that is good for this area."
The REED Fund works closely with state and federal agencies, local banks and other loan funds to finance community and economic development projects. Agralite Electric Cooperative is a local, member-owned, progressive utility providing safe, reliable electric power and other related services to improve the quality of life in its Western Minnesota region.